Roelof Broekman is a composer, writer and video-artist from Amsterdam, The Netherlands. He composed music for companies, documentary, games and national television.
He published a book of poetry: Azotum, and his novel In de Waitman was published by De Brouwerij: the fictional story about the descent of a motherless son confronted with a turmoil of religious and relational topics, as well as a mysterious
car-accident of which the duration seems stretched to a year.
His video-art
has been screened in over 20 countries worldwide.
Roelof studied music ranging from rock to contemporary classical. Scroll down for his curriculum...
---
With written words, with video-art and through his music, Roelof wants to tell stories. Having produced novels and video-art he has an unique composite experience and insight in the role music plays with image, and even more important: it's relation with the content of a story. For efficient use of the emotional strength of music a composer needs a proper understanding of human behavior, empathy, and feel for dynamic changes which occur in everyday life. Apart from being a very friendly guy who fits easily in a team, he is a very dedicated worker, driven by intrinsic motivation fueled by his love for music, movies, the written word and art in general. Roelof produces low cost highly effective orchestral music and beyond. Extremely significant for use in film, games and documentary.
Roelof creates music with Vienna Symphonic Library, VSL Suite Effects, Altiverb reverbs by Audio Ease, Steinberg products: Cubase / Wavelab / Halion, Waves master limiting, Spectrasonics virtual-instruments: Trilian / Omnisphere / RMX, H1 & H2 and Mark Studio II from Overloud: guitar and bass software, CLA vocals, CLA bass and CLA mixdown, a Paul Reed Smith guitar pre-amp, Steinberger and Simon & Patrick guitars, Galaxy II virtual piano's, Ethnic World 5 library, East West: Symphonic Choirs library, Toontrack EZ-2 series and Superior Drummer, a wonderful AKG K267 closed headphone, Alesis near field monitoring, Yamaha amps and Dali 3-way speakers.
All compositions made on a customized laptop by BTO, a Novation masterkeyboard and iRig Keys. Allthough equiped with high-end parts, the studio setup is very flexable and provides Roelof to work from any place.
Roelof meditates at a Buddhist center in Amsterdam.
---
---
curriculum
​Music production:
- Overamstel Publishers/Esther Malaparte
- Tjerk Noordraven, writer for Overamstel Publishers | Moon books
- Music composed for documentary (dvd)
Het Lam Gods
(gebr. van Eyk, 1432, kathedraal van Gent). Production: Jeroen Visser, NL
- Roelof Broekman writes and produces music for www.allmusic.nl
- VPRO tv broadcast 'Goudzoekers' leader and additional music (20 episodes)
- Arrangement advice for cd production 'The Hunch'
- String arrangement for popsong
Legal tender
commissioned by Anne Soldaat
- Hewlett-Packard, HP, company news video worldwide (Heddema productions, Zurich)
- Pixelpixies (multimedia company, Yvonne Teuben & Eric Klok)
- Xmedia works (multimedia and serious gaming)
- JTI/Syngenta, company news video worldwide (corporate videos)
- VU medical centre (education videos, 4 projects)
- Foetal Movements (documentary: Film festival Teleciencia 3rd price MIF-sciences)
- Slavenburg, company news video (leader)
- Cees Dam, commercial national broadcast (architect, Zuid-as project Amsterdam, NL)
- Unicef, serious game for children living near minefields
- Waddenzee, serious game education for highschool children
- Jurymember singer-songwriter price (de Grote Prijs) Amsterdam (asked by composer Klaas ten Holt)
- Finals NCRV Popslag on radio 3, national radio. With my one-person band 'Portland'. Songs:
Starshill dreams
and
Stop, don't want you baby
-
Starshill dreams
appears on a cd for new talent published by Nationaal Popinstituut
- Live performance and interview for Radio Amsterdam (Radio Mortale)
- Live performances as a singer-songwriter in Amsterdam clubs
​- Cd's written, performed and produced since 1996:
W.Shane - Short Illusions
(10 tracks, produced with Dirk van Boven on bass, and Emiel Kortleven on drums)
Portland - Waiting for the snowman
(10 tracks)
Portland - Time to fly
(2cd - 27 tracks),
Portland - These conversations
(9 tracks)
Portland - Velvet screams from the backyard
(8 tracks, 2006)
Hesperus
-
Crepuscular Rays
(4-track Cd, Black Heaven Music, 2017)
Video-art:
-
Jigo Jisho, Lucid Sleep, Blue Pollock, Aeternitatis, Neutron Collision
and
Snowcruise
on Videotheque Artstream New York... 2016
​- Curator Alberto Guerreiro selected
Durchschauen / A moment at 44
Transborda Videoart Gallery (Books and Movies Festival, Alcobaça, Portugal) 1-10th of June 2015
-
Durchschauen
at Videotheque Art Stream in New York, 2015
-
Durchschauen
at International Streaming Festival, The Hague, Holland, 2014
-
1933
november 2014 at The Jia Pingwa Museum in Xi'an, China (Enrico Tomasselli gives a talk)
-
1933
TRE filmfestival in Rome (Italy, 6-6-2013, Palledium theater)
-
A moment at 44
permanent collection Streaming Festival (Den Haag, NL)
- Roelof Broekman part in 'A century in Video-Art' project by Enrico Tomaselli, with
1933
. Shows: China, USA, UK, Russia, Argentina, India, Colombia, Peru, Mexico, Albania, Iran, Italy, France, Canada, Ukraine, Romania, Bulgaria, Hungary, Armenia, Philippines, Germany, Spain and Greece. (2013 - 2014)
-
Jigo Jisho
Ionian International Digital Film Festival (Greece,15-22 sept 2012)
-
Aeternitatis
,
A moment at 44
and
Out of the blue
, shown at the International review of video art on the 21th DokumentART
​(16-20 Nov. 2012, Neubrandenburg / Germany / Szczecin / Poland)
- presentation by Roelof of 3 video's in 'Pakhuis de Zwijger', assignment by the VPRO-tv (NL, may 30th, 2012)
-
Aeternitatis
,
A moment at 44
and 'Jigo Jisho' 6th Streaming Festival (NL, The Hague, dec. 2011), openingnight screening
-
Jigo Jisho
shown CeC 2012, 24-26 februari Carnival of E-creativity, Himalayan Indian state of Uttarakhand (India)
-
Home is where the heart
is for 'music video around the globe' part of the Bornshorts film festival (Denmark, sept 16th and 17th 2011)
-
Jigo Jisho
CologneOFF videoart (Cologne, Germany september 2011)
-
Jigo Jisho
permanent collection of Casoria Contemporary Art Museum (Napels, Italy, 2011)
-
Jigo Jisho
MagmArt Video-art festival. (Napels, Italy, friday 18 march 2011, Venue of Foundation Universal Forum of Cultures)
​Writing & publishing:
-
De Nachtwandelaar
(novel, 2019...)
-
Braincrash
(november 2018, 180p, publisher 'De Brouwerij', non-fiction)
-
Partycrash
(April 2018, 206p, publisher 'De Brouwerij', non-fiction)
-
In de Waitman
(novel, 2014, 272p, publisher 'De Brouwerij')
- The poem
Herboren
get's to the 2nd round of the Turing Poetry Price (2015)
- Roelof Broekman is the 'featured poet' in poetry magazine Erbacce in Engeland, 2012. The magazine contains from Dutch translated poetry by Roelof and an interview. Poets A. D. Winans, Sam Smith, and Puma Perl where also featured poets in the past
- Shortlist (40) of the Erbacce price for poetry 2011
- Poetry book
Azotum
by (2008, 72p, publisher FM, 2008)
- Short story
Boventonen
(2008/2009)
- Article
Nabokov, Zappa and Montreux
. Proposal by writer Ben Watson (Frank Zappa: the negative dialectics of poodle play) to perform on a Zappologist conference in the future.
Roelof Broekman published poetry in the following literature magazines:
- Kunsttijdschrift Vlaanderen
- Deus ex Machina
- Ambrozijn
- Lava
- Schoon Schip
- Weirdos
- Erbacce
Educational:
Music-theory and guitar by conservatory teacher J. Pisters, S
oundcertificate at the
SAE:
School of Audio Engineering, books:
Walter Piston: orchestration, Paul Gilreath: MIDI orchestration,
A composer's guide to game music by Winifred Phillips,
Samuel Adler: the study of orchestration, Bobby Owsinski: mixing engineer's handbook, Huber Runstein: modern recording techniques, Roey Izhaki: mixing audio, Pejrolo DeRosa: acoustic and midi orchestration, Mark Russell: filmmuziek, Fred Karlin: on the track (film music), Master Shots by Christopher Kenworthy, Film and Video Art by Stuart Comer, Video Art by Michael Rush, Writing on the wall (word and image in modern art) by Simon Morley, A history of Video Art by Chris Meigh-Andrews, Nam June Paik by Tate Publishing, Bill Viola by Chris Towsend, Video: the reflexive medium by Yvonne Spielmann, Elliot Carter by Felix Meyer and Anne C. Shreffler, Edgar Varese by The Paul Sacher Foundation, Sonic Youth goodbye 20th century by David Browne.
---
Concerning modern composing techniques
For composing music I use the Vienna Symphony Library, developed in Vienna (Austria) by Herb Tucmandl. It contains all instrument groups of a big orchestra, a medium ensemble, as well as solo instruments. All these instruments have numerous articulations (staccato, sustain notes, trills, pizzicato) which can be triggered with an ingenious sample-player system. Also: each articulation contains several loudness levels, from p(ppp) to f(fff).
All these samples are beforehand played live on a small stage and recorded, every individual note possible, in different articulations and loudness levels. Now the composer can trigger each individual recorded note by using a keyboard and a software program with a (piano) key editor. Playing a note on the keyboard triggers a specific recorded note of a chosen instrument, depending on which note you play (like a C# produces a C# of a violin, or a non-pitched percussion sound), and how hard you press the key (producing a p or an f).
Then, when it comes to composing, it's just the same old song, but in stead of working with a written score one can write notes using a (piano) key editor on the screen. This provides the opportunity to actually hear what you are writing: in real time. Every note you touch is instant audible.
Also different from a written score is that it's now possible to create a finished product. The players notes are already recorded: so it's time to mix all the different instruments and articulations you have played on the keyboard like it's been done in a studio for making a CD production: in my case for using it as the final score. In this way the composer becomes the conductor in spreading en balancing the sound. He also becomes the sound engineer at the same time, using reverb, limiters and equalizers to realize what he had in mind.
Apart from these orchestral samples I use real electrical guitars, my voice and other sounds to complete the scores.
Powered by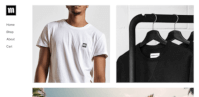 Create your own unique website with customizable templates.